Every time the price of silver rises, interest in the market tends to increase as investors start to consider whether now is the right time to add physical silver to their investment portfolios.
Although silver prices can be volatile, it is also regarded as a safe-haven asset, much like its sibling metal gold.
With this in mind, let's look at how you can start your silver collection.
How do people invest in silver?
Before we talk about buying silver bullion, let's quickly cover some of the other ways people invest in silver. I've gone into much more detail on silver investing here.
Buying exchange-traded products
ETFs and ETCs are an easy way to invest in silver and other precious metals. Some hold physical silver or futures contracts, while others replicate broader indices. ETFs are a low-cost method to track silver prices and other commodities, charging management fees around 0.1-0.2% annually.
Buying silver funds
Silver funds usually invest in mining companies, which benefit from a rise in silver prices as it positively affects their revenue. The Jupiter Gold and Silver fund has a 5-year return of 13%, while the Blackrock World Mining fund, which has a broader focus, has a 5-year return of 69%.
Buying shares in silver mining companies
Buying shares in silver mining, refining, and trading companies is another option since their share prices are highly correlated to silver prices. However, their prices may also be affected by other factors such as the company's performance and the geopolitical and environmental situation.
Investing in mining companies may yield dividends and profits if the share prices increase. Dividends paid by mining firms grew by $10 billion in 2021, driven by soaring commodity prices, according to AJ Bell.
There are few 'pure play' silver mining firms, with First Majestic Silver Corp (FR) generating revenue from both gold and silver mining, while Wheaton Precious Metals (WPM) provides financing to mining companies in return for fixed-price metals, including gold and silver.
FTSE mining giants BHP (BHP) and Rio Tinto (RIO) have modest silver production but offer some attractive dividend yields.
OK – now that we've covered that, let's get into the main topic of today's class:
What are the advantages of investing in silver bullion?
Alternative investment
During times of political and economic uncertainty, investors frequently turn to precious metals, including silver. Despite serving the same purpose as gold, investors frequently overlook silver bullion. It can, however, provide protection during times of turmoil.
Tangible asset
While financial products such as cash, mining stocks, and bonds are forms of wealth, they are essentially digital promissory notes that can depreciate as a result of actions such as printing money. A troy ounce of silver bullion, on the other hand, is a finite, tangible asset with inherent and real value. Although it is subject to market fluctuations like other commodities, it is less likely to crash entirely.
Affordable
It is less expensive than gold – When compared to gold bullion, silver is not only less expensive but also more versatile in terms of spending. Because silver is less valuable than gold, it is easier to break if you buy it in the form of a coin to use as currency. Silver bullion is therefore more practical and versatile, making it a more appealing investment option.
Higher returns
Silver can provide higher returns than gold – Silver tends to move in tandem with gold, and because the white metal is currently worth around 1/79th the price of gold, purchasing silver bullion is affordable, and the percentage gain if the silver bullion market price rises is much greater. In bull markets, silver has outperformed gold, and including it in an investment portfolio can help investors hedge their bets.
Stability
Silver has a long history – For thousands of years, silver and gold have been used as legal tender, and their stability and enduring value provide investors with peace of mind. Individuals who invest in physical silver can be confident that its value has persisted and will likely continue to do so, unlike fiat currency, which may become obsolete.
What are the disadvantages of investing in silver bullion?
Lack of liquidity
There is a chance that if you hold physical silver, it may not be immediately liquid. To make common purchases, such as groceries, you cannot use silver bullion bars or coins, so you must first convert them to currency, and the ability to sell silver quickly can be an issue. If you can't find a bullion dealer and are in a pinch, pawn shops and jewelers are an option, but they won't always pay well.
Risk of theft
Unlike most other investments, such as stocks, silver bullion can expose investors to theft. Securing your assets from looting by using a safety deposit box in a bank or a safe box in your home will incur additional costs. Furthermore, the more physical assets, including silver jewelry, you have in your home, the more vulnerable you are to burglary.
Relatively weak return on investment
Although silver bullion is a good safe haven asset, it may not outperform other investments like real estate or even other metals.
For some investors, mining stocks, particularly dividend-paying silver stocks, may be a better option than silver bullion.
High demand = high premiums
When investors attempt to own silver futures or purchase any bullion product, such as an American silver ounce coin known as a silver eagle, they quickly discover that the physical silver price is generally higher than the silver spot price due to seller premiums. Furthermore, if demand is high, premiums can quickly rise, making physical silver bullion more expensive and a less appealing investment.
Should you buy silver?
You won't be surprised to learn that I, the Silverpicker, am a keen collector of physical silver. Here's some proof.
But in all seriousness, the numbers do add up.
Silver's price is a major draw for investors, especially when compared to gold and palladium. An ounce of silver costs $23 as of 2023, which is significantly less than gold's $1,864 per ounce or palladium's $1,740 per ounce. As a result, silver is a more accessible option for investors who are not willing to risk a large sum of money up front, making it an ideal choice for those who are new to investing or prefer lower exposure.
Silver, like gold, has a low or negative correlation with many other commodity markets. The price of silver increased by 277% during the 2008-2011 financial crisis. Although it has since fallen, this trend highlights the opportunity for investors with market knowledge to profit from similar rises in the future.
And truthfully, there's something about the feel of a physical asset in your hand. You know what I mean.
How does silver bullion work?
Investors can purchase physical silver bullion in the form of bars, coins, or rounds. It's advisable to compare premiums offered by different dealers and buy from reputable marketplaces like SD Bullion and JM Bullion. Additionally, there is a thriving second-hand silver market, where collectors can directly purchase silver bullion. When choosing which type of bullion to buy, factors like silver content, design, size, and shape should be taken into consideration.
Silver bars
Silver bars are produced by pouring or casting silver into molds. The two primary types of silver bars are ingots and bars, and these terms are frequently used interchangeably. However, bars conforming to international standards will have weight, purity, year of manufacture, and serial numbers stamped on them, while ingots may not. It is recommended to look for these markings to ensure authenticity.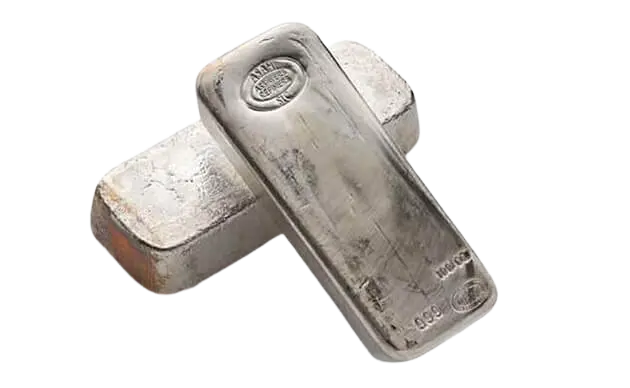 Silver coins
Government-backed silver bullion coins can still be used as legal tender, while rounds produced by private mints are not considered currency. Due to their liquidity, coins typically have higher premiums than bars. Numismatic coins, which are purchased for their design and collectibility, tend to have the highest premiums.
When purchasing silver coins, it is essential to check the face value (the value printed on the coin) versus the intrinsic value (the value based on the collectibility of the coin).
Silver Eagles – The American Silver Eagle, introduced by the United States Mint in 1986, features Adolph A. Weinman's "Walking Liberty" design on one side and the eagle design on the other. One troy ounce of 99.9% pure silver is contained in each coin. These coins cannot be purchased directly from the United States Mint, but must be purchased from a dealer.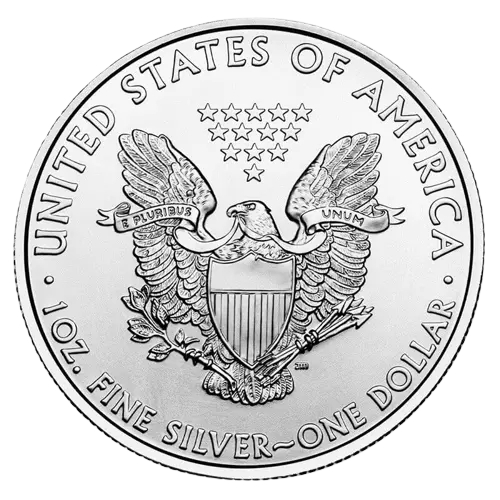 Silver Canadian Maple Leafs – The Royal Canadian Mint has been producing coins containing one troy ounce of 99.9% pure silver since 1988. These coins depict Queen Elizabeth II's profile as well as the Canadian maple leaf.
British Silver Coins – The Royal Mint of the United Kingdom has a long tradition of producing silver coins. However, the precious metal content of their products has varied over time. As a result, it is best to check the coin's year to determine its metal content. The most popular are Britannia silver coins, which have been 99.9% pure since 2013. Other designs are also available.
Mexican Silver Libertads – These coins have been produced by the Mexican Mint since 1982 and come in a variety of weights.Since 1991, the coins have been made of 99.9% pure silver. The Mexican coat of arms appears on one side, while the Angel of Independence appears on the other.
Chinese Silver Pandas – Since 1983, the People's Bank of China has been producing these coins, which have been made with 99.9% purity since 1987 in various sizes.The Chinese Mint switched from ounces to grams in 2016, and the coins are now available in 30 and 150 gram denominations. These coins are highly collectible because their design changes every year and features the popular panda.
Australian Kangaroo – Introduced as a numismatic coin in 1993, the Perth Mint now produces this popular coin annually as a 99.9% pure investment coin.On one side, there is a red kangaroo, and on the other, there is a portrait of Queen Elizabeth II.
Silver rounds
APMEX Silver Rounds – APMEX offers a wide range of 99.9% pure silver rounds with a variety of themes, such as holiday, historical, religious, and pop culture designs, such as the Bitcoin silver coin. These coins are manufactured by several different producers.
How to invest in physical silver
Providers like APMEX, SDBullion, and JM Bullion are all legitimate places to buy and sell your silver bullion. They know exactly what they're doing, and you can rest assured by the quality and validity of their products.
Online marketplaces like eBay, Facebook marketplace and others are also options, though you need to be careful and make sure you're not being duped into buying not-so-silver bullion.
One good option in the online marketplace…market (ahem), is Whatnot. Buyers and sellers (like me!) take place in online auctions where you can see exactly what it is you're buying. I've personally got some great value out of Whatnot and can't recommend it enough. You can get $15 of Whatnot credit with my link.
Finally, a shameless plug. I run regular grab bag swaps and giveaways on my Discord server for like-minded silver stackers. It's a great community and a lot of fun. To join, you just need to sign up to support me on Patreon and you'll get access – every little helps!
FAQs
Is it better to buy silver coins or silver bullion?
Acquiring silver bullion usually incurs lower premiums compared to silver coins and its value closely follows the spot price of silver.
Is it hard to sell silver bars?
Silver bars are a highly sought-after investment as they can be sold relatively easily and tend to hold their value well. To make a profit on your investment, sell your silver bars when the market price for silver rises above the price at which you initially purchased them.
Show some love and buy your precious metals with my Apmex link!
(it's the same thing, but you get a thank you from me!)